Especially for this years edition, which has the theme of the New World, I made an interactive installation with three screens which show an alternate reality of the village. In the installation you visit the virtual buildings in Oldeberkoop: Web Spaces. This architecture is based on the web pages of more than 100 local companies including Supermarket Attent, Theater Le Brocope and Aannemersbedrijf Houwer-Jansen B.V. In the pre-programmed route you will automatically be taken along these Web Spaces. But you can also actively explore this world yourself by controlling the virtual character with a game controller.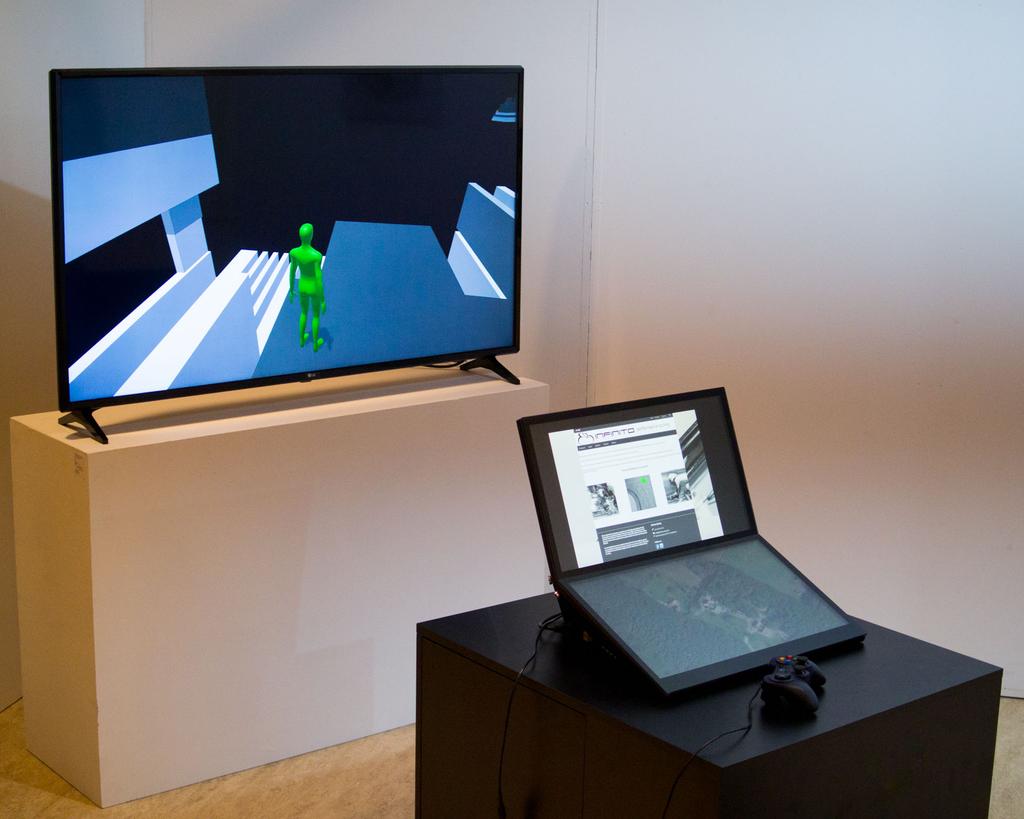 Most of the visitors of Open Stal are aged 50+. I tried to make this installation in such a way that everybody can enjoy it, including the people who don't know how to use a gamepad as input device. But I didn't think of one thing: to print out the instructions in a larger font size! I just used a regular font size 12, but only later noticed not everybody could comfortably read the instructions. Whoops…
What I wanted the visitors to know is the following: if you don't know how to use the gamepad, just sit down and let the installation guide you on the tour. Just don't touch anything and the program will do the work. If, however, you do know how to navigate a 3D space with a gamepad, thing become perhaps a bit more interesting. Because now you can explore the 3D world on your own, decide where to go to and discover correlations between the big screen with abstract 3D buildings, the screen showing the flat web page and the screen showing a satellite map of the physical surroundings.
The interactive installation proved to be very popular with younger visitors! Kids, primary school aged, were shrieking cries of excitement when they explored the world of Web Spaces. They basically didn't want to go home any more, or at the very least come back immediately the next day! I was happily surprised to see that they liked it so much. Additionally I was moved by the collaboration going on between generations, where older visitors who had a lot of knowledge about the village (but couldn't navigate the gamepad), collaborated with the children who skilfully moved to locations suggested by the onlookers.
I'd love to post video's and pictures about these events, but I won't because I haven't asked their parents permission.
In addition to the interactive installation, I exhibited a 3D print of a Web Space from the village of Oldeberkoop: Topschroeven.nl. It's a webshop where you can buy screws. It was shown next to a small Web Space of Google.com in silver and aluminum.